Imposter in the Garden August 8, 2018
Jane and I had a busy morning in the garden this morning.  For the past week we've been seeing an increase in the number of all kinds of butterflies but primarily Gulf Fritillaries, Monarchs, Queens and Viceroys.   In my own yard I've seen several yellow swallowtails too.
This morning near the milkweed in the pollinator bed, Jane discovered what we at first thought was a monarch caterpillar, but on closer examination we saw that it had three sets of filaments (those antennae like protuberances on their backs that some incorrectly refer to as tentacles or antennae).  The Monarch caterpillar only has two sets of filaments but the Queen has three sets.  The poor thing was away from the milkweed on some tall Bermuda grass. Half of one of its filaments was missing.  I decided that it should be rescued so I brought it home with me.  This is my second caterpillar rescue for 2018.  In the spring I rescued a Monarch caterpillar and let it go as a female Monarch butterfly.  I'm sure there will be many more to come in addition to tagging adult Monarchs.  Last year Loving Garland Green tagged 100 monarchs.  This year we ordered 200 tags.  Tagging in North Texas begins around Labor Day.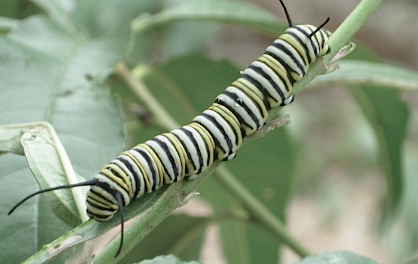 The photo above shows a Monarch caterpillar with its two sets of filaments Photo by Monika Maeckle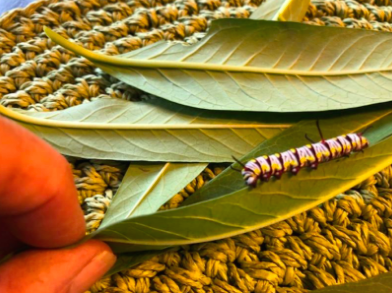 Above is a photo I took of the Queen caterpillar.  He/she is now safely ensconced in a condo with plenty of milkweed leaves to munch on. I will say that the Queen doesn't seem to eat nearly as fast or greedily as the Monarch.
_____________________________________________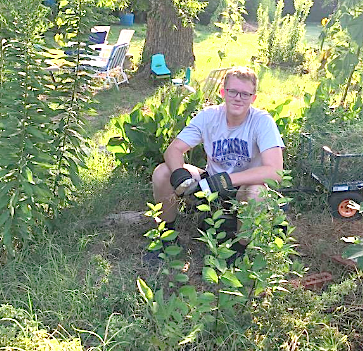 Nicholas Kircus in the Garland Community Garden July 24, 2018
The spirit of volunteerism touches hearts—both the young and the old.  Nicholas Kircus is among the community volunteers who help to keep our Garland Community alive and well with his labor.  Nicholas, an honor student, has been coming to the garden at 7:30 in the morning and working for an hour before football practice pulling the relentless Bermuda grass from our beds.  Without volunteers like Nicholas, our community would not have nearly so many nice places like the garden and public services such as the Good Samaritans—most volunteers work behind the scenes unseen providing valuable assistance the rest of us never see.
It is especially heartening to see our youth involved in community volunteerism as the patterns we set in our youth are often with us throughout our lifetimes.  Nicholas is a young man who appears to be living a life of balanced responsibility and discipline.  After he leaves the garden between 8:30 and 9 AM, he goes on to football practice at North Garland High School.  Nicholas, a senior this year, plays center for the team.  I asked him this morning if he had picked out a college to attend after he graduated.  He has narrowed it down to two:  Texas A&M and Oklahoma University.  In addition to caring about his community, Nicholas is also an honor student.  Either school will be lucky to have such a responsible young man among their student body.
________________________________________________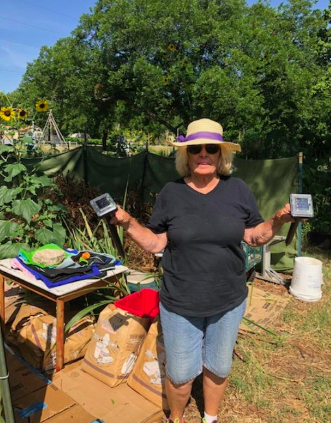 Liz Berry holding two solar-powered ultrasonic repellent devices at the Garland Community Garden - July 10, 2017
Tuesday Additions to the Garden:  Supporting our "Send them Back to the Woods" Policy
In keeping with our garden policy as a national wildlife habitat we are already preparing for the fall when snakes and mice (food for snakes begin to seek refuge from the cold in compost and brush piles.  Yesterday (Tuesday July 10) Jane and I installed two solar-powered ultrasonic repellent devices at the Garland Community Garden. We will be inserting many other brands of these devices at the garden.  These devices are safe for use around pets and children.  They have no troublesome chemical or nuisance pesticides, no trap resulting in dead animals to deal with.  This particular device sends out vibrations and sounds every 30 seconds which are said to effectively repel snakes, mice, moles and raccoons.   We want to keep the critters in the riparian area that border the garden, in between us and the creek.
BE SURE TO SHOP LOCAL WHENEVER YOU CAN!  IT HELPS LOCAL MERCHANTS AND IT HELPS YOUR LOCAL ECONOMY!
MORE ABOUT THE GARLAND COMMUNITY GARDEN!
Symbolic Monarch Migration Teacher Packet
Measuring the Value of a Community Garden and Its Stewards 
Once in a Lifetime Opportunity to Become a Monarch Butterfly
Update on Plants in the Garland Community Garden
Upcoming Pole Bean Planting Class - April 13
Three Citizen Scientist Monarch Projects slated for the Garden!
Our April 1 plant sale was a great success!
We have been encouraging Citizen Scientist Projects in our Community.
We have been busy testing soil.
We have been conducting garden tours.
We have been meeting Garland Residents in the Garden.
We kicked off our own Citizen Scientist Project.
The Beans produced and produced!
Now we are looking forward to some English peas.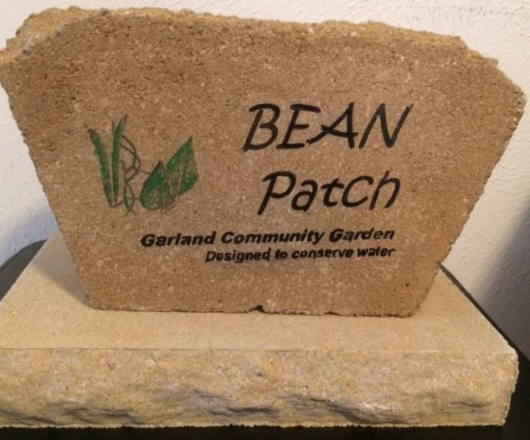 Signs at the Garland Community Garden
We've been experimenting with signage down at the garden for almost three years now.  I think we've finally hit upon a good solution that will hold up well through all seasons—we are using rocks and concrete. An example of our new signs is shown above.  This one is for our bean patch, which will feature Fort Portal Jade, Purple Hull Pinkeye, 1500 Year Old Cave Bean, Gold Marie Vining, Blauhilde, Pigeon Pea, Jacob's Cattle (all grown from rare heirloom seeds) and speaking of beans . . .
Meet the Bean Man
Have you heard of John Withee (1910-1993)?  He grew up in rural Maine.  Every Friday his family chore was to clean out the bean hole and start a fire in it.  This pit in the Withee's backyard was used an earth oven.  When the coals in the pit got hot, a Dutch oven was placed in the coals and then dirt piled over it.  The beans baked in the pit for an entire day. Then they were eaten for the Saturday evening meal.  Leftovers were eaten on Sunday.  If there were any remaining beans from Sunday, they would be spread on bread with mayonnaise and eaten for school lunches.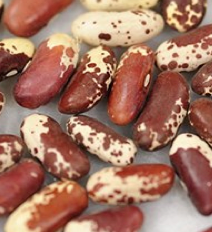 Jacob's Cattle—the best beans for baking according to the Bean Man.  This variety is available through Baker Seeds and organizations such as Seed Savers Exchange
After living in crowded urban areas with little yard space for years, in the early 1970's, Mr. Withee moved to a place in Massachusetts where he had a little land.  Thus he decided to create a bean hole in his backyard and invite a few of his friends over for a "bean bash."   According to John Withee, the best beans for baking are called "Jacobs Cattle."  As things turned out, he could not find any beans of this variety so he had to substitute a less desirable variety.
It was this event that stirred his interest in seed saving and became what was to be a 20-year quest for different varieties of beans.  He amassed nearly 1,200 varieties of beans and formed an organization called 'Wanigan Associates"—a network of bean growers who helped him maintain his collection of 1,186 species of beans.  The entirety of Withee's collection of bean species today is at Seed Savers Exchange's Heritage Farm in Decorah, Iowa.
[Read the full story of the Bean man at Seed Savers.]


_____________________
Gardeners To Do List for November in North Texas
Planting
Continue refrigerator chilling of tulips and Dutch hyacinths in preparation for late December/early January planting.
Plant pansies, flowering kale and cabbage, dianthus, cyclamen, violas, and other cool season annuals. Plant daffodil and grape hyacinth immediately after purchase.
Divide and replant perennials such as Iris and daylily.
Pruning
Prune evergreen trees (as needed) such as magnolias, live oaks, and wax myrtles to minimize possible ice damage.
Cut back dormant perennials such as lantana and salvia after the first freeze.
Trim back tropical plants such as cannas, banana and elephant ears after their foliage freezes down.
Do major re-shaping of shade trees as needed after the first freeze when plants go dormant. This is a good time to remove mistletoe that stands out on bare limbs.
Plant Care
Mulch leaves on your lawn. Shred excess leaves and add to planting beds or compost pile.
Replenish finished compost and mulch in planting beds, preferably before the first freeze.
Harvest pecans after mid November.
 
Fertilize new fescue and ryegrass lawns at one half the rate recommended.
Apply your favorite fertilizer to pansies and other winter color plants to promote strong growth if needed.
Harvest fall vegetables before the first freeze.
Remove and drain garden hoses from outlets and cover faucets to prevent freeze damage.
_______________________________________ 
We are pollinator friendly!
Pollinators are responsible for one out of every three bites of food that we eat. We are lucky that we even have any left considering some of the horticultural and agricultural practices over the past 75 years.  
NATIVE BEES
A lot of folks don't realize that here in North America we have over 4,000 species of native bees.  Unlike the honeybee which was brought to North America by European settlers, most native bees of North America are solitary, not social.  The bumblebee, one of our natives is the only native bee that is social, colonizes and lives in groups.  Our gentle-natured native bees are extremely more efficient pollinators than their European cousins.  For example, one tiny Mason bee pollinates as much as 100 foraging honey bees. 
Did you see a Monarch?  Report your sighting.  Click on the Map below and follow the instructions.
What can you do to help the Monarch?
The Remarkable Story of the Monarch from Garland Texas
List of Milkweed Native to Texas
____________________________________________
Learn All About Milkweed!
Re-establishing the presence of Milkweed is critical to bringing the Monarch back from the brink of extinction.  Fortunately for us, Brianna Borders and Eric Lee-Mader have written a definitive text titled: Milkweeds--A Conservation Practitioner's Guide.  This 156-page text surely must be among the most informative texts on the topic.  It is available free as a download from the Xerces Society website.  This text covers information on plant ecology, seed production methods, and habitat restoration opportunities.
Native seed producers, restoration practitioners, land managers, monarch conservationists, gardeners, and landowners will all find this guide valuable.
To download a pdf of the report, click here.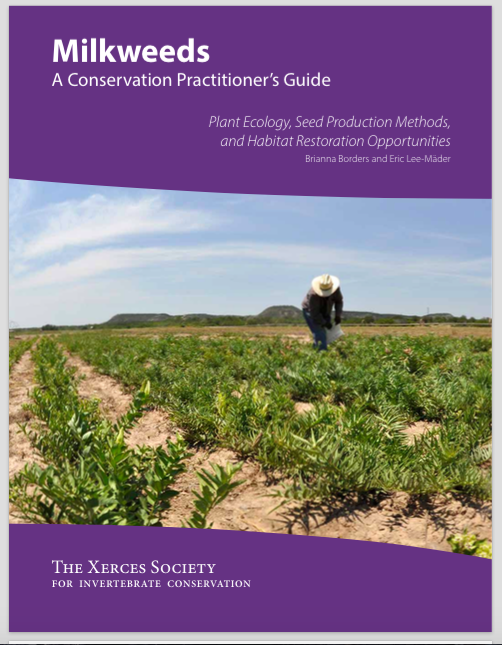 About the Xerces Society
The Xerces Society is a nonprofit organization that protects wildlife through the conservation of invertebrates and their habitat. Established in 1971, the Society is at the forefront of invertebrate protection worldwide, harnessing the knowledge of scientists and the enthusiasm of citizens to implement conservation programs. Butterflies, dragonflies, beetles, worms, starfish, mussels, and crabs are but a few of the millions of invertebrates at the heart of a healthy environment. Invertebrates build the stunning coral reefs of our oceans; they are essential to the reproduction of most flowering plants, including many fruits, vegetables, and nuts; and they are food for birds, fish, and other animals. Yet invertebrate populations are often imperiled by human activities and rarely accounted for in mainstream conservation. The Society uses advocacy, education, and applied research to defend invertebrates. 
____________________________________________
The butterfly is but one of many important insect pollinators.  In fact, the bee is perhaps one of the most important.  Unlike the butterfly and many other insects pollinators whose acts of pollination are incidental to their gathering nectar, the bee deliberately harvests pollen and takes this protein rich substance back to the hive to nourish its young.
Many do not realize that the honey bee is not native to the USA.  It was brought here by European settlers.  However North American has over 4,000 species of native bees.  The only native bee that is social is the bumblebee who make their nests in the ground.  
The bee uses it proboscis (long straw-like tongue) to transfer pollen to its pollen sacs. 
Learn about elderberries and then add some to your edible landscape.  
Recently we discovered an elderberry bush near a pawpaw tree down at the garden.  Elderberries are an easy to grow shrub that  you can include in your edible garden.  According to Charlie Nardozzi of Edible Gardening:  
"The dark purple berries contain vitamins A and B, and more vitamin C than oranges. They are also high in cancer-fighting antioxidants. In fact, elderberry fruits have historically been used to treat many ailments, such as respiratory problems, colds, and flus. Plus, they are tasty when used in juices, jellies, jams, teas, pies, and wine. You can use the umbrella-shaped, elderberry blossoms for making a delicious fritters or even champagne." 
_____________________________________________
 Makerspaces
Loving Garland Green will be working with others to bring a makerspace to our community.  Makerspaces provide the opportunity for people to work with the latest technological tools such as 3D printers that they might not otherwise have access to.
____________________________________
Featured Garden Bed Formats
Sustainable is key to our gardening practices.  Diversity is another key that fits into just about any activity promoted by Loving Garland Green.  We display many different formats for garden beds down at the Garland community garden:  square foot beds; keyhole bed; hugelkulturs; containers; and more.
 ____________________________________
Education--A Key Component for Loving Garland Green Members
Sharing our own personal enthusiasm for urban gardens and its promise for the health of our residents as well as the health of our local economy is our gift.
Over the past year members of Loving Garland Green have participated in several community events where we have made presentations regarding gardening techniques and the importance of urban dwellers growing at least some of their edibles. (See our project updates below for more information.)
There is lots of opportunity down at the garden.
Currently we have approximately 3,000 square feet of garden beds, of which some are still available to those who are interested in gardening at the community garden.  The sizes of the beds range from small to large.  If having a garden plot sounds like too much work for you, then we invite you to plant something in a container and bring that down to the garden.  We have lots of room for containers.  The only "work" involved is that you must agree to visit the garden once a week to take care of your plant.
The best way to learn more about us is to attend one of our meetings.  We meet every first and third Monday from 6:30 to 7:30 PM at 216 East Kingsbridge Drive Garland Texas 75040.  We would love to meet you.
Why would someone want to belong to Loving Garland Green?
That's a good question and one of the best answers I can think of is:  "because that person understands the extreme value of gardens--particularly gardens that grow edibles."  
MORE BENEFITS COMMUNITY GARDENS PROVIDE FOR YOU
____________________________________
LOCAL GARDEN INFORMATION
If you would like assistance on where what when to plant, check out these free handouts from our website:
______________________________________
GARDEN FORMATS  
 
Square Foot Gardens
________________________________________

Who is Loving Garland Green?
We are a dynamic group of people who are dedicated to increasing the number of urban gardens in Garland. We have joined together to form a nonprofit organization. Membership in our organization is open to the public as are our meetings and related documents. There are limitless ways to increase the number of urban gardens in a community.  MORE